Innovators, investors and payers rely on EntityRisk to rapidly and accurately estimate the real-world value of new technologies and the risks surrounding them.
Our platform identifies opportunities and quantifies risks to help firms optimize pricing decisions, advance market access, improve evidence-generation investments, and correctly assess commercial value.
What is the value of a new medical treatment? How will it work in the real world, on real patients? How will it compare to alternative emerging treatments? Uncertainty is inherent in life sciences innovation. EntityRisk develops cutting edge software that scales up our decades of leadership and expertise in quantifying uncertainty – and value – in healthcare.
Our PROVEN™ platform predicts, measures and articulates the value of new technologies in the real world, along with the risks to and opportunities for achieving optimal value
EntityRisk's
PROVEN(TM) Platform
Build or expand your capacity for accurate, flexible and rapid value calculations through every customized instance of EntityRisk's PROVEN(TM) Platform. Our platform, backed by decades of research, embeds the collective expertise of a world-class team and scales it on demand.

Tell a consistent story about value.
PROVEN digests and leverages clinical trial data, real-world data, financial data, and published estimates, to produce a single, optimized set of predictions for real-world outcomes and value.
Quantify risks and opportunities.
PROVEN fits and evaluates state-of-the art Bayesian machine learning models that generate probabilistic predictions, allowing flexible and detailed assessments of upside and downside risk.

Future-proof your scientific methods.
PROVEN seamlessly integrates cutting edge- scientific methods from a variety of domains, including Bayesian machine learning, generalized cost-effectiveness, and advanced mathematical simulation modeling.
Eliminate blind spots in your value proposition.
PROVEN automates generalized cost-effectiveness analysis, allowing the user to calculate value from multiple perspectives, from the broadest societal perspective to the most focused payer financial perspective.
Produce credible results quickly.
PROVEN accelerates the development of trusted mathematical disease models for evaluation of medical interventions.

Translate data into practical commercial insight.
PROVEN leverages a microsimulation engine to forecast revenues and cash flows under both traditional and novel outcomes-based or risk-based contracting structures, and under accounting rules tailored to your circumstances.
Leverage software built by a team with world- class scientific, engineering and industry credentials.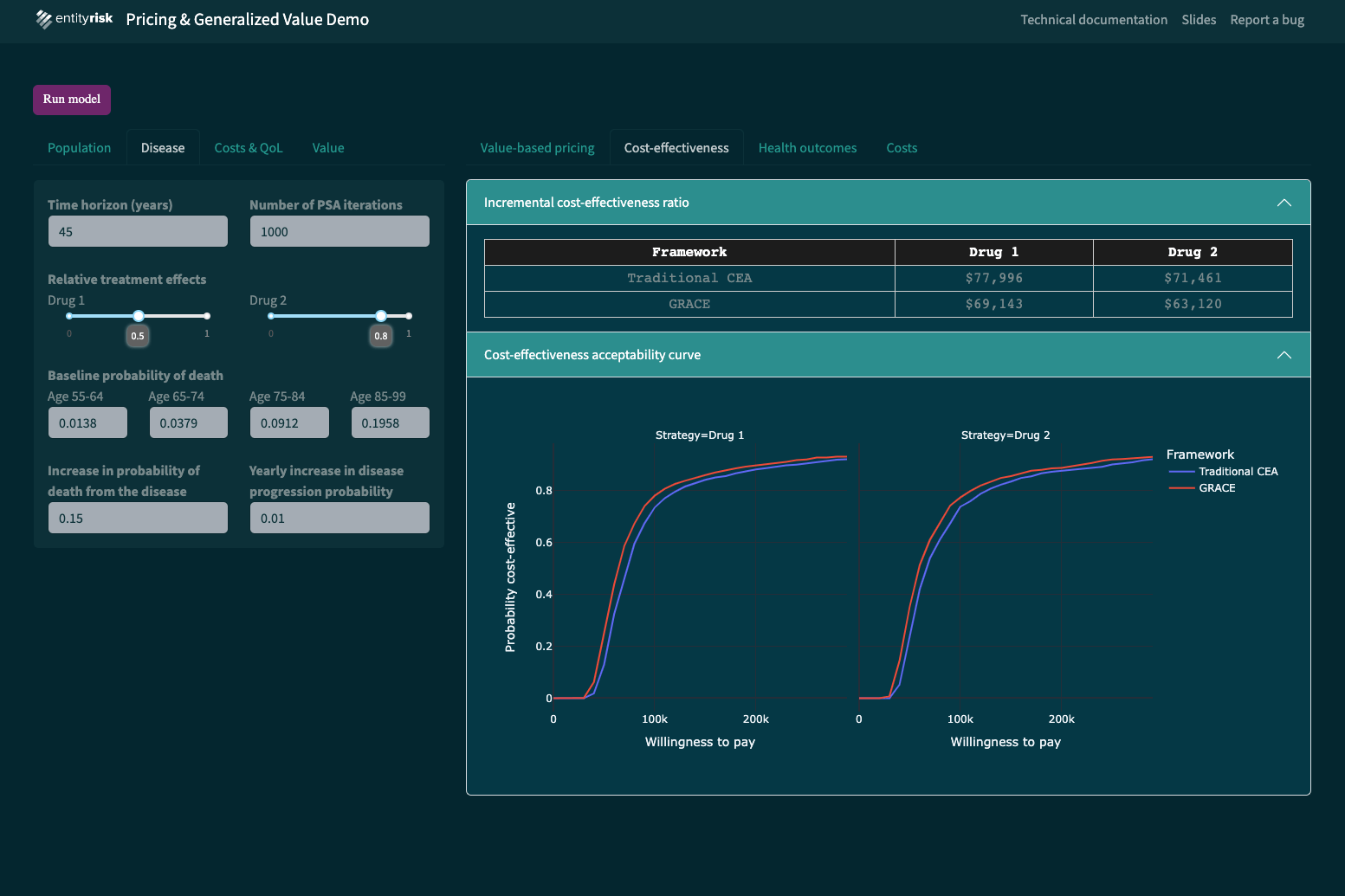 RWP gets the most out of very limited data and predicts the full outcomes distribution.
RWP is designed to predict real-world effectiveness based on any available data, including early- or late-phase trial data, prior trials on standard of care, and real-world data on standard of care or therapy of interest.
Jointly leveraging trial data, real-world data, and their correlations mitigates data scarcity Bayesian priors support more stable predictions when dealing with small samples.
Pricing and Generalized Value
PGV allows innovators to rapidly and rigorously ascertain the full value of technologies. Employers efficiently assess the value of new therapies for specific employee populations.
Deploy value frameworks including traditional cost-effectiveness (CE), generalized risk-adjusted cost-effectiveness (GRACE) and additional generalized cost-effectiveness Analysis (GCEA).
Leverage trial data, real-world data on comparator therapies, and value assessment methods, to predict distribution of real-world effectiveness and value at the individual payer level.
Commercial Value Estimation
CVE assesses commercial value using standardized approaches and methods, including a justifiable price, expected market size and competitor intelligence.
Calculate justifiable prices based using a distribution of treatment effects mapped to QALYs and predict expected market size.
Find the potential market size based on the likely range of clinical outcomes for different populations and competitor net prices and competitor incremental effectiveness, launch order, and therapeutic class.
Outcomes Based Contracting
OBC guides contracting and financial management by efficiently assessing how new therapies will perform in the real-world. Combine trial and real-world data and to predict the distribution of real-world effectiveness and project how the product will perform. Inform selection of performance metrics on which to base contracts. Quantify the range of revenue risks with alternative pricing and contracting strategies to ensure adequate reserve provisions. Inform decisions regarding how much and when revenue can be recognized.
The latest news and insights from across the industry
It's clear to me that healthcare systems globally – and in the US – will continue to ramp up their scrutiny of the value proposition for new medical technologies. EntityRisk's tools are emerging at just the right time to help companies and patients understand that value.
Jeffrey B. Kindler
EntityRisk Board of Directors
Healthcare industry leaders, including CFOs, face increased risk when launching new drugs, ranging from challenges in drug pricing and access related to uncertainty in real-world effectiveness, utilization and value.
Frank D'Amelio
EntityRisk Board of Directors
If a biopharma board isn't asking 'how vulnerable are we going to be to policy developments in the U.S. in the next five years,' then they're not doing their job. They're asking many more questions than they were even two or three years ago.
Neal Masia
EntityRisk CEO
Given its tools, healthcare experience and thought leadership, EntityRisk is well positioned to help leaders mitigate this uncertainty, assess, develop and manage outcomes-based contracts and continue to propel healthcare transformation.
Frank D'Amelio
EntityRisk Board of Directors